Cold Weather – Here we come!
This past weekend was typical weather for the place that I call home which is Chicago. It was in the upper 60's on Saturday and Sunday and then the bottom dropped out. It started raining late Sunday with the temperatures dropping quickly. I woke up to 30 degree temps and the realization that winter is almost here. Time to find fashion that is stylish but still keeps us nice and cozy. So here are my five picks to add to your winter wardrobe that will keep the chill away.
1. Genevieve Coat by GUESS  – $228
One must always have  a gorgeous coat to throw on. You may have a great outfit on but why cover it up with that huge, puffy North Face jacket that everyone else is wearing? My recommendation is this chic wool-blend coat from GUESS. I love the tweed combined with the leather details, faux fur collar, and cool zippers. It is also versatile because the collar is detachable.  I think the price tag of $228 is a decent price since you could where it everyday until May possibly. That's the reality here in Chicago unfortunately. 🙁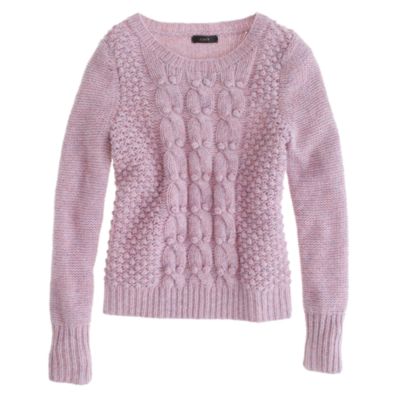 2.Handknit Popcorn Sweater by J.Crew – $138
A sweater is always a must-have for the winter so back away from the awful Christmas sweaters and check out this one from J.Crew.  This beautiful and classic sweater with its unique texture comes in an traditional off-white color called vintage champagne (Love that name!) or a beautiful pale lavender called heather pond.  I really like ribbed trim on the cuff and hem which gives it a more flattering fit.  No more baggy, frumpy sweaters.
3. UGG Australia "Fashion Shorty" Tech Glove – $100
One can never survive a Chicago winter without gloves so I recommend leather ones.  They give a more polished look to any coat.  My favorite pair of gloves is the one that I own right now.  This leather glove has shearling at the cuffs to keep your wrists warm and has an interior lining of cashmere.  Mine are still in great shape after receiving them last year for a Christmas gift.  They are an exclusive item from Nordstrom and they have grippers at the thumbs and index fingers so you can use touch screen devices.  That feature is a plus for sure.  No more taking off your gloves to use your phone!
4. Felt Wool Hat in Oatmeal by Merona – $19.99
A hat is another accessory to add to your winter wardrobe.  My man claims that men love hats. So besides keeping your hair long for them, buy a hat.  You don't have to spend a lot of money to get a great one. Every year I get one from Target and I always get compliments on them.  This is my pick of the season because of the neutral colors of oatmeal and light brown.  It can go with almost anything and the price of $19.99 is great for your pocketbook.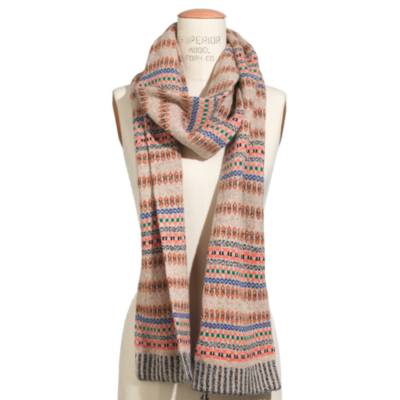 5. Fair Isle Scarf from Madewell – $58
Last but not least, you need a scarf.  There are so many scarfs out there is so many different price ranges.  It shouldn't be too hard to find the perfect one for you.  My personal favorite is by Madewell.  You always should have the timeless Fair Isle pattern in your winter wardrobe.  It makes me want to grab a hot chocolate with marshmallows and sit next to the fire.  Maybe winter won't be so terrible after all.